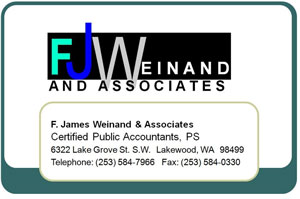 We are open for business and taking care of our clients!

At Weinand & Associates, CPAs, we take your health, and the health of our staff seriously. No one on staff has been diagnosed with CoVID-19 and we want to let you know what we are doing to limit exposure to you and our staff.
We can offer alternatives to an in-person appointment with all or any combination below to gather the information necessary to prepare your return:

Drop-off your data at the reception desk

Documents may be uploaded to our secure portal

Mail-in your documents

Telephone appointments to relay other information and to answer any questions

Please call our office at 253-584-7966 for an invitation to our secure portal or to schedule a time for a telephone appointment.
We ask our clients who will be entering our building to use the hand sanitation station in our entryway and to wash your hands in the restroom before checking in at our front desk to meet with your CPA or to drop off tax documents.
To further keep everyone healthy, we will:
Not allow anyone into the building who is sick, whether it be staff or client or visitor
Refrain from handshakes and hugs
All hard surfaces in public areas are wiped down multiple times per day, including counters, armrests, stair railing, doorknobs, etc.
Disinfectant sprays are used multiple times daily on hard surfaces
Staff areas including desks, computers, keyboards, and other equipment are wiped down daily or more often as needed
Public restrooms are wiped down and sprayed several times a day
Hand sanitizer stations are set up in several locations throughout the building

We will continue to maintain our high level of service and responsiveness. We appreciate your understanding and patience. Don't hesitate to call or email us with questions or concerns.
Telephone...
(253) 584-7966
F. James Weinand & Associates CPA's
6322 Lake Grove St SW
Lakewood, WA 98499
You can also send us a message directly through the contact page of this website.